Sri Hanuma Janmasthala Samuddharanodyamam
OM SRI RAMA
JAYA HANUMAN
Sri Hanuma Janmasthala Samuddharanodyamam
(Movement for grand restoration of birth place of Sri Hanuman)
"An appeal to the ardent, pious and dedicated devotees of Sri Hanuman"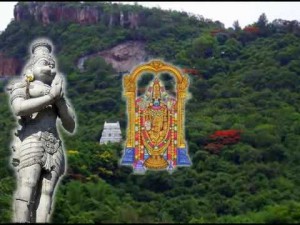 We have been truly believing that "SRI RAMACHANDRA" was born in "AYODHYA" and therefore the people in that area are the divinely blessed ones. But, even though in our great "PURANAS" it is clearly and unambiguously made known to us that "SRI HANUMAN" who proved  himself an efficient, skilful and gifted executor of "SRI RAMACHANDRA'S" assignments, was born on the "ANJANADRI HILL"in the vicinity of TIRUMALA-TIRUPATI in Andhra Pradesh, we are not yet considering ourselves as the blessed ones. In fact many people do not know this truth at all. For this unawareness we ourselves, the devotees of "SRI HANUMAN", are responsible.
For the construction of "SRIRAMA'S" grand temple at AYODHYA, there are impediments relating to several political and religious problems. But for construction of a grand and befitting temple at the birth place of "SRI HANUMAN" located at Jabaali Teertha there are no such problems. But this is also not being done. More over there are no appropriate facilities provided to pilgrims at this place relating to their travel, bath, drinking water and residence.  Since, there is no requisition from the devotees, these facilities are not being, provided.
Hence, to make all the people become aware of the birth place of "SRI HANUMAN" and to activate the concerned officials to provide the essential facilities relating to travel and stay of devotees, we have taken up the above movement under the directional guidance of Dr. Annadanam  Chidambara sastry garu (who is a renowned
upasaka of Sri Hanuman, researcher of all divine about Sri Hanuman, Hanuma Bhakti and ex-president of Jagarana Samiti). It is to be considered as our good fortune to make the people of our society become conscious of the birth place of "SRI HANUMAN", which is hither to lying in obscurity since thousands of years and also to  make their services in the movement received by "SRI HANUMAN". So we call upon you to become the partakers of this movement and get qualified ones for the grace of "SRI HANUMAN".  A book entitled  "Sri Hanuman Janmasthalam-Anjanadri", priced at only Rs.10/-, is available with the office of Sri Hanuman Janmasthala Samuddharanodyamam and this is written by Dr.AV.N.S. Hanumat Prasad about the birth place of "SRI HANUMAN" with complete material of authentic evidences.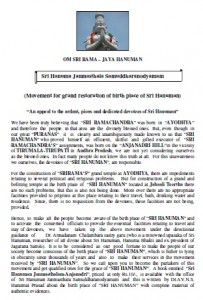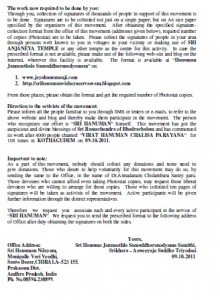 [dm]21[/dm]
[dm]22[/dm]
[dm]23[/dm]
[dm]24[/dm]
The work now required to be done by you:
Through you, collection of signatures of thousands of people in support of this movement is to be done. Signatures are to be collected not just on a single paper; but on A4 size paper specified by the organizers of this movement. After obtaining the specified signature-collection format from the office of this movement (addresses given below), required number of copies (Photostat) are to be taken. Please collect the signatures of people in your area through persons well known to you in villages in your vicinity or making use of SRI ANJANEYA TEMPLE or any other temple as the centre for this activity. In case the prescribed format is not available, please make use of the following web-site and blog on the Internet, wherever this facility is available.
Direction to the activists of the movement:
Please inform all the people familiar to you through SMS or letters or e-mails, to refer to the above website and blog and thereby make them participate in the movement.  The person who recognizes our effort is "SRI HANUMAN" himself.  This movement has got the auspicious and divine blessings of Sri Ramachandra of Bhadrachalam and has commenced its work after 4000 people chanted "VIRAT  HANUMAN  CHALISA  PARAYANA" for 108 times in  KOTHAGUDEM on  09-10-2011.
Important to note:
As a part of this movement, no body should collect any donations and none need to give donations. Those who desire to help voluntarily for this movement may do so, by sending the same to the Office, in the name of Dr.Annadanam Chidambara Sastry garu. Those devotees who cannot afford even taking Photostat copies, may request those liberal devotees who are willing to arrange for those copies. Those who collected ten pages of signatures will be taken as activists of the movement.  Active participants will be given further information through the district representatives.
Therefore we request you associate each and every active participant in the service of "SRI HANUMAN".  We request you to send the prescribed format to the following address of Office after duly obtaining the signatures on both the sides.
Office Address:    
Sri Hanuman Nilayam,
Munipalle Vari Veedhi,
Santa Bazar,CHIRALA–523 155.
Prakasam Dist.
Andhra Pradesh. India
Ph. No.08594-238899.
Sri Hanuma Janmasthla Samuddharanodyama Samithi,
Srikhara – Asweeyuja Suddha Triyodasi
09-10-2011