Anjanadri – Evidence and reference in the bhaviShyottarapuraaNa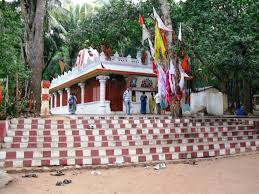 There are many evidences and references regarding the birth place of hanumaan in the 'bhaviShyottarapuraaNa'. The holy book titled " veŋkaTaachalamahaatmyam " comprises stories from various puraaNaas. In the first chapter of this book, which is compiled from the bhaviShyottarapuraaNa , King janaka enquires from shataananda as to how the mountain got its name as añjanaadri. The latter then relates the story in the form of a sequence of events, as follows:
Once Queen añjanaa, the beautiful wife of King kesari, paid a visit to the hermitage of mataŋga maharshi with extreme grief that she was childless. " Childess that I am, what is my destiny ?" she asked of the great sage. He replied with great compassion "My dear daughter ! At a distance of about 50 yojanas from the 'pampaasarovaram' lake, you will find the holy hermitage 'narasimhaashrama'. To the south of that on the top of the mountain 'naraayaNaachala', you will find the holy 'swaamitiirtham'. Beyond a distance of about one 'krosa'( a few miles) from there, you will encounter the holy waterfalls of 'aakaashagaŋga'. You please take a holy dip in that waterfalls and do penance for about 12 years. As a result of that penance, you will be blessed with a virtuous child".
Queen añjanaa complied with the instructions given by the great sage with great sincerity. She bathed in the waterfalls, then went around the holy peepul tree praying all the while to the presiding deity Lord varaahaswaami. Having taken permission from her husband, completely shunning all materialistic pleasures and comforts, she started her fasting penance, without taking even a morsel of food and transformed herself to resemble a block of wood. She meditated this way for 12 years during which period, the powerful God of wind vaayu took care of her. He used to give her a divine fruit everyday. One day he gave her his own potent sperm in the form of a fruit. She ate it as usual assuming it to be a regular fruit. Consequently, she got pregnant and after ten months gave birth to a son. The baby boy was named 'hanumaan' by the delighted sages.
Since Queen añjanaa performed extreme penance on the mountain and got a son, the mountain got its name 'añjanaadri'.
añjanaa vratamaasthaaya putram praapa giriishvare |
tasmaadañjanashailo@yam loke vikhyaata kiirtimaan || 1-87 & 88 ||
The main slokas of the bhaviShyottarapuraaNa pertaining to this story are given below.
janaka uvaacha – kathamañjanashaileti tretaayaam naama me vada |
shataananda uvaacha –
puraa kesariNa: patnii hyañjanaa kañjalochanaa |
anapatyatva du:khena mataŋgamunimaagamat || 73||
aanamya munishaarduulamanapatyaatikarshitaa |
uvaacha vachanam netraniirasiktakalebaraa || 74 ||
aho taapasashaarduula@putraayaa mama kaa gati: |
evamukto@ñjanaadevyaa mataŋgo vaakyamabraviit ||75||
pampaayaa: puurvadigbhaage pañchaashadyojanaantare |
narasimhaashramo devi ! vartate vasudhaatale ||76 ||
tasya dakShiNadigbhaage naaraayaNagiristaTe |
uttare svaamitiirthasya vartate kroshamaatrake ||77||
viyadgaŋgeti vikhyaataa tatra gachCha yathaasukham |
tatra snaatvaa@tha kalyaaNi dvaadashaabdam tapashchara || 78||
tena puNyena te putro bhaviShyati guNaadhika: |
mataŋgenaiva muktaa saa naaraayaNagirim yayau || 79||
kRitvaa svaamisara:snaanamashvatthasya pradakShiNam |
varaaharuupiNam natvaa piitvaa tatsalilam shubham || 80||
aakaashagaŋgaamaasaadya tapa:kartum prachakrame |
muniimshchaamantrya bhartaaram vrataartham bhakShyavarjitaa || 81 ||
upavaasarataa baalaa baahyabhogavivarjita |
kaaShThavatparyavasthaapya shariiram svaatmana: shuchi: ||82 ||
puurNe samvatsare jaate vaayudevo mahaabala: |
phalamaahRitya bhakShyaartham pratyaham hyadadaanmarut || 83 ||
athaikasmin dine vaayu: phale viiryamapuurayat |
viiryagarbham phalam tasyaa: praakShipatkarasampuTe || 84 ||
phalam saa manyamaanaa hi kshudhaartaa tadabhakShyat |
tato garbha: samudabhuudañjanaa yaashcha bhuumipa || 85 ||
muninaamabhavaddharSho vaayugarbhasamudbhava: |
atha saa dashamaasaante sushuve putramuttamam || 86 ||
hanumantamimam praahurmunayo viitakalmaShaa: |
añjanaa vratamaasthaaya putram praapa giriishvare || 87 ||
tasmaadañjanashailo@yam loke vikhyaata kiirtimaan ||88||